Today is the first day I have had a chance to reflect on an amazing experience I had on Thursday night. I attended TMClevedon last October as an exhausted NQT straight off the back of an OFSTED two day inspection ( see earlier blogs A Week of Two Halves ) and sat watching these amazing and generous teachers talk about ideas they use in their classrooms to inspire, engage and generally improve the learning of their students. I sat there and thought to myself, there would be no way that I'd be ever be able to do that. I'm just not that creative, inspiring or generally interesting for people to want to listen to especially as I haven't been teaching very long.
Then, I went to Pedagoo London and saw the amazing NQT Miss Jenny Ludgate (@MissJLud) do 'her thing', and once again felt that it was even further out of my reach than before.
So fast forward to March and TMClevedon 'I love Learning' was announced and I signed up as an enthusiastic lurker. Thinking about what great stuff I was going to glean this time.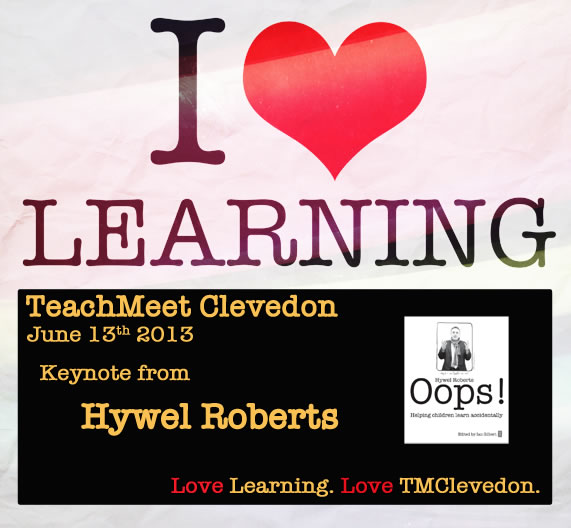 Once I'd made my booking the idea of presenting at this small (ha ha) gathering started to percolate through my brain. What could I do? Who'd be interested? Am I good enough? Would they all laugh at me? These were the conversations you have with yourself in the dark hours of the morning when sleep evades. But, and here's the rub, I'd shared an idea I'd been using in my classroom with @BunnyScience (Lucy Golton) way back in January and she'd taken that idea and developed it into a whole workshop to present at Pedagoo event in Edinburgh (http://purpleelf.edublogs.org/2013/05/28/foldable-fun/). So, I discussed it with her and took a RISK. See Hywel_Roberts, am doing it and signed up to do a 5 min presentation. The weeks past and I was immersed in my classroom busy doing what we all do when suddenly it was half term. Lots of twitter encouragement later, I'd put my presentation together. 'Fun with Foldables' was the title. OMG what had I done. Too late, it was sent off and I tried to put it out of my mind.
Well,Thursday rolled around and there I was. @Hywel_Roberts was giving the keynote and encouraging us to take risks.
Well this was one for me personally rather than professionally as I know the kids had loved doing these. So, courage in my boots it was my turn. I had watched all these others do 'their thing' and still was convinced that I'd make a fool of myself. I had rehearsed the timing and I was just over the 5 mins, but those who know me, know that I can talk for Britain at the speed of sound!
So what did I do?
Well I talked all about 'Foldables' and how they evidence learning, allow kids to take ownership of their ideas, make links, and especially for those less engaged they enjoy the kinaesthetic aspect of not having to write too much as pictures, diagrams work just as well.
I managed, as you can see by the you tube clip to do this in 3 mins 26 seconds, nerves got the better of me. I really couldn't see much of the audience but I got a lovely "ooh" when showing one of the children's creations.

And I was done. I sat down to see my twitter stream come alive. People who weren't even in the room were asking for more details. On a personal level, this blog is mainly about that, TMClevedon – and this has been one of the highlights of this year! To hear other teachers some who are already at the top of their profession tweeting to say how interesting it was I think I did ok.
So, do I recommend you presenting? Most definitely, get out of your comfort zone. Look at your practice and it doesn't matter what you do, you are doing some amazing stuff I am sure which is having an impact on Learning. Get out there and share because this is the only way we can develop our craft.
Here is a copy of my presentation and some links to help you get started.
So take a risk, be creative and happy folding.